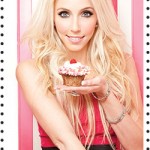 Casey Beau Brown is the Owner, Chief Creative Officer,
Cupcake Queen
and the winner of Food Network's
Cupcake Wars
.  She is passionate about creating delicious and fresh cupcakes using the freshest and highest quality ingredients available. The young entrepreneur is the owner of four Casey's Cupcakes retail stores and is expanding throughout the U.S. and internationally.  Each Casey's Cupcakes store locations are truly an experience, a destination inspired by a classic Parisian café with a glamorous Hollywood twist. Casey's curiosity for confections began at an early age when she started baking with her great grandmother. Although she was only four years old, baking resonated with her and grew into a passion that she nurtured throughout her life. Amongst all the treats she would bake alongside her great grandmother, cupcakes became a favorite because they can be customized for each person with deliciously unique flavor profiles and creative, glamorous and beautiful decorations. In addition to baking sweet treats, Casey has always been dedicated to serving her community and growing her business.  In 2002, Casey founded the C.A.S.E.Y. Foundation, Children's Alliance for the Success and Education of Youth, which was established through her long-time passion for helping children build their self-esteem by focusing on academics and extracurricular activities. Casey began her career as a pageant girl in Miss Teen California 2004 and then joined the cast of the second season of MTV's reality series "Laguna Beach" as "the new girl", which received enormous ratings. During her junior year of studying psychology at Pepperdine University, Casey decided she wanted to start a business doing what she loves: baking and decorating cupcakes, and sharing the recipes that she developed with her great grandmother.  She opened her first Casey's Cupcakes retail location at The Historic Mission Inn Hotel and Spa in Riverside, California, in 2009. "Starting my own business at age 22 and growing it so quickly has been a challenging, fun and incredible journey," says Casey. Her cupcakes became nationally known when she won the Food Network's "Cupcake Wars" in 2011 with her four winning flavors: white chocolate cherry, white Russian, chili chocolate and lavender. Today, the thriving entrepreneur's cupcakes are sold at two Casey's Cupcakes retail locations in Southern California; The Historic Mission Inn-Riverside and the Irvine Spectrum Center.  The company also makes custom cupcake creations, Decorate Your Own cupcake parties and other sweet confections for weddings and special events. Casey continues to build awareness of C.A.S.E.Y. Foundation and other charitable organizations by speaking at events about the importance of education and donates money and her delicious cupcakes to support their fundraising and awareness efforts. She currently resides in Southern California with her husband and two children. When she is not baking delicious desserts, she enjoys, traveling, mixed martial arts and studying new cultures.