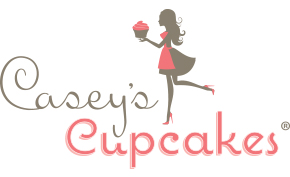 Walk into a Casey's Cupcakes store and you know you're in for a treat the moment you see the glass cases filled with delicious, beautifully decorated cupcakes, each topped with Casey's signature chocolate medallion. Casey's Cupcakes is truly an experience, a destination inspired by a classic Parisian café with a glamorous Hollywood twist and incorporates bright splashes of pink with classy black accents and whimsical accessories. The fun, happy, bright and vibrant ambiance reflects the personality of the company's founder, Casey Reinhardt, who began baking with her great grandmother when she was only four years old.
With her delicious recipes and the guidance of her parents, Kelly and Duane Roberts, who have achieved great success in the food service and hospitality industry as proprietors of the acclaimed Historic Mission Inn Hotel and Spa in Riverside, California, Casey was able to turn her passion into a business at the tender age of 22.
In 2009, when she was just a junior at Pepperdine University, Casey opened the first Casey's Cupcakes retail location at the Historic Mission Inn and Spa in Riverside, California to share the freshly baked, high-quality cupcakes. Casey's Cupcakes became nationally known in 2011 when Casey won the Food Network's Cupcake Wars with her four winning flavors: white chocolate cherry, white Russian, chili chocolate and lavender. Whether the company is using Belgian chocolate, Tahitian vanilla or rare Colorado Peaches for the Passionately Peach cupcake of the month flavors, Casey's bakes up flavors like Decadent Dark Chocolate, Razzmatazz Raspberry, Peanut Butter Pizzazz and many others, daily.
With demand for the delectable cupcakes established, Casey's Cupcakes opened an additional store in March 2013 in Irvine, California at The Irvine Spectrum Center. There are plans to expand throughout the United States and internationally. Casey's Cupcakes are sold in the company's patented individual cupcake boxes that transform into a plate or in six-pack boxes, perfect for gift giving. For parties or events, Casey's Cupcakes can create uniquely decorated packages filled with an assortment of a dozen or more Casey's Cupcakes flavors.
The retail locations are perfect for Decorate Your Own Cupcake Parties, children's birthday parties, bridal and baby showers and other gatherings. The company's wedding and event division makes custom cupcake creations and other sweet confections for weddings and special events. Casey's Cupcakes creations include beautiful cupcake towers, wedding cakes, and delicious party favors. Casey's Cupcakes also sells its own line of products that include rich hot chocolate, herbal tea, sweet honey pearls, aprons, bubble bath, apparel, accessories and more.
The company supports the C.A.S.E.Y. Foundation, Children's Alliance for the Success and Education for Youth in need, which was established by Casey Reinhardt, to serve help children build their self-esteem by focusing on their academics and extracurricular activities.
Casey's Cupcakes will continue to develop new products and to open more stores throughout the U.S. and to bring continued attention to charitable causes.